Is your donation a gift? You can download a customizable She Should Run gift certificate upon processing your donation. A link to the certificate will be immediately available via your donation thank you message and email receipt.
To make a donation in memoriam, please contact us directly at [email protected].
Contributions to She Should Run (EIN: 20-4210843), a non-profit 501(c)(3), are tax-deductible to the fullest extent of the law.
Want to have a bigger impact by giving monthly?
As a member of our monthly giving program, Team250K, your gift will help countless women discover and cultivate their political potential–women who don't yet realize that they have what it takes to lead in their communities.
Join Team250K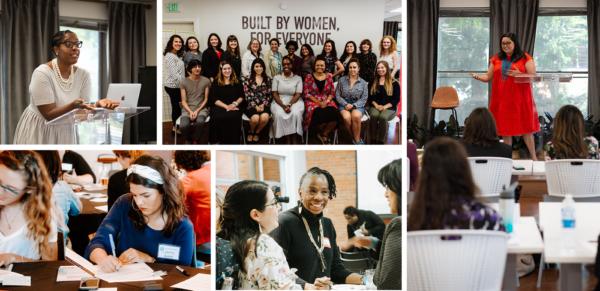 Frequently Asked Questions
How does my donation to She Should Run make a difference?

It only takes $62 to move a woman into the political leadership pipeline through access to the She Should Run Community. Your donation will help us to reach gender parity in government by ensuring that our message and resources reaches and empowers every woman who is not yet thinking about running for office but should be.
I don't want to donate online. Can I send a check?

Yes! We would be pleased to accept your donation via snail mail. Checks can be made out to She Should Run and mailed to the following donation:
She Should Run, Attn: Donations
80 M Street SE, 1st Floor
Washington, DC 20003
I'd like to make a recurring monthly donation. How do I do this?

Monthly giving is a convenient and impactful way to sustain our work over the long haul. Click on over to Team250K to read more about our amazing monthly donors who make our work possible.
Can my company financially sponsor a She Should Run program?

Absolutely. Corporate partnerships make our work possible. Hop on over to our Become a Partner page to learn more.
I'd like to transfer publicly traded securities/assets or personal investments to She Should Run in your support of your mission. How do I do this?

She Should Run's brokerage account is ready and waiting to receive your transformational gift. To complete the transaction, please refer to the details below:

PNC Investments / NFS
DTC 0226
She Should Run
005-578755

Another great option is to set up a donor-advised fund (DAF), a charitable giving investment account that allows you to reap maximum tax benefits, and recommend She Should Run to receive gifts at your interval of choice.

Finally, consider a charitable bequest. Planned legacy gifts through will or trust to She Should Run establish a reliable flow of income that empowers us to invest in the next generation of leaders.
Don't see your question here?