The 36 Days of Election Season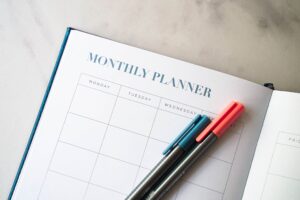 Am I the only one who feels like August and September flew by? Somehow, it's already October, which means that this is the moment to get everything in order for Election Day (which is in 36 days, not that we're counting). If you're like me, you like to plan everything out to the letter, which is why we're bringing you a week-by-week breakdown of the month (plus a few days extra!) leading up to Election Day. 
One Month Out – now
First and foremost, now's the time to register to vote if you haven't done so already! Different states have different requirements and timelines, which you can review here. If you're voting absentee, check your mail-in ballot deadline–and circle it five times on your calendar! Unsure if you're registered? You can verify here.
And if you're interested in exploring your civic engagement at a deeper level, register for our email course, 4 Steps to Building a Better Community. In just 30 minutes per week, you'll learn how you can make our democracy better–and in addition to the activities that make up the course, we'll connect you to other program participants, putting you in touch with a community of women to share experiences and learnings.
Four Weeks Out – October 10
Now's the time to research candidates running in your area. Many of them will likely be holding rallies and events, or even visiting local spots for meet-and-greet opportunities–keep your eyes peeled at the park, library, and farmers market, or take a look at the candidate's social media to see if they've posted about any in-person opportunities coming up. 
Three Weeks Out – October 17
Friends who vote together stay together–that's how the saying goes, right? Make a voting plan with a friend or neighbor, figuring out ahead of time where your polling place is, what the best way to get there is, and what coffee shop you want to stop at along the way. 
Two Weeks Out – October 24
Double-check your voter registration and polling place here. Make sure you've blocked off time from work if you're voting in person. If you're voting absentee, you may be able to vote already–keep your eyes peeled for your ballot in the mail! 
One Week Out – October 31
If applicable in your state, beat the lines and vote early! This is also a great opportunity to check out the answers to some of your burning Election Day questions. 
Election Day – November 7
Today's the day! Show up to your polling place with your aforementioned voting pal and exercise your civic right. Wahoo! 🎉
Enjoying our blog content? Help pay it forward so more women are able to wake up to their political potential. Donate to support She Should Run.
Give Today