Get to know Ally Cummings
She Should Run is a nonpartisan nonprofit promoting leadership and encouraging women from all walks of life to run for office. We are driven by a vision of seeing 250,000 women run for office by 2030. Our programs provide an approachable starting place and network for women leaders considering a future run by providing community, resources, and growth opportunities.
Meet Ally Cummings, She Should Run's Digital Communications Manager and newest member to the team! Find out why she was interested in She Should Run, if she wants to run for office one day, and what leadership advice she would give her ten-year-old self.
Tell us about yourself.
I grew up in Saranac Lake, NY, a small town in the Adirondacks. I have nomadic tendencies and have moved around several times since college but am now living in Colorado. Small town living definitely made for a nice childhood but it's been my time living in cities that has opened my eyes to different perspectives. 
I am a huge book-worm, with a never-ending wait list under my name at the library. When I'm not working, I am probably chasing my dog around the mountains of Colorado, discovering the best chocolate chip cookie of whichever city I'm currently in or bingeing my latest tv show obsession. The She Should Run team keeps telling me to watch Queer Eye so that might be next!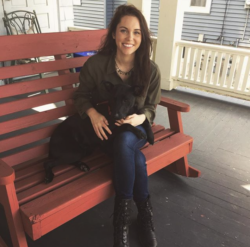 You just joined the She Should Run team. What drew you to this organization and what are you most excited about with your role?
I was drawn to She Should Run due to it being non-partisan. I like that the goal of this organization is not to choose who we vote for but to give us the opportunity to see women on the ballot. I think it's inspiring when women make a place for themselves at the table. While I might not always agree with everything they have to say, I embrace the opportunity to hear them and the right that women in this country should have to vote for them.
What do you do at She Should Run?
As the Digital Communications Managers, I manage the social media platforms and email communications, finding new and fun ways to introduce information to our amazing community. From gifs, to memes, to Instagram stories, I enjoy the ever-changing digital world that allows for the combination of my creative and strategic sides to develop inspirational content.
Have you always been politically active?
Yes and no. Growing up, my family didn't discuss politics so it wasn't something that we were constantly exposed to. However, I always loved my history classes and was that person questioning why our history books weren't telling the stories of the amazing women I was learning about on my own. It was my time spent with my grandparents that my interest in politics really grew. They were always talking about what was going on in the news and how the White House was running the country. I'm very thankful for those conversations because I can't imagine doing anything else now. 
Why is it important to you that She Should Run is a nonpartisan organization?
While people might not like it, the truth is that women on all sides of the political spectrum do, in-fact, represent many other citizens in our country. In order to have a government that can truly serve the people, all women from all walks of life need to be a part of those conversations. I admire their ability to find ways to compromise and see each other's point of view. Without that, our democracy is not complete. 
Do you think you'll follow in the footsteps of our amazing Incubator members and consider a run for office someday? 
My grandmother would love that, I think she's ready to be my campaign manager. It's something I've considered and could potentially see myself doing. Right now I think my strength is best suited in helping find other women to run and I've never been one who loves having a lot of attention on me so it's definitely a fear I'll have to get past, but who knows. Someday you might see me asking the questions during a congressional hearing. 
What piece of leadership advice would you give your ten-year-old self? 
Nobody else is you and nobody else has your voice. Don't let the fear of being unoriginal hold you back. Authenticity is what will push you forward.  
Who is your role model?
I have always looked up to Sophia Bush. She is unapologetically herself and has been a strong voice for women. As someone who geeks out over policies, is refreshing twitter to keep up with the news and uses social media to speak out on what's happening around the world, she has given me the courage to embrace who I am and not change that for anyone. During my first couple of weeks at She Should Run, she responded to our Instagram story and I might have done a celebratory dance. And, if she ever runs for office she definitely has my vote. 
Who is a woman in your life who you think should run for office and why? 
My grandmother! She can't due to citizenship but she is passionate and vocal about issues that don't directly affect her. It would be easy for her to just sit back and let it be, but she doesn't. In my eyes, an admirable candidate is someone who is willing to fight for all their constituents, regardless of their own personal stake in the situation. When voting they should be taking into consideration the wants and needs of the people they were elected to represent. I know in my heart she would do that.   
Why do you think it's important for women to step up and get involved in politics? 
Women make up over 50% of this country. The fact that we make up only a quarter of our government leadership is unacceptable. In order to have the best debates, ideas, and policies, women need to be a part of the conversation. How can everyone in our country feel they have someone who understands them and supports them when the majority of our leadership looks like one type of person? The sad truth is, men are not going to make a seat available to us, we have to take it for ourselves. When I saw women like Alexandria Ocasio-Cortez win their seat at the table, it gave me hope that we can create a government that no longer embodies the cookie-cutter politician.
What's your favorite inspirational quote?
"Scream. So that one day a hundred years from now another sister will not dry her tears wondering where in history she lost her voice." – Jasmin Kaur 
Enjoying our blog content? Help pay it forward so more women are able to wake up to their political potential. Donate to support She Should Run.
Give Today