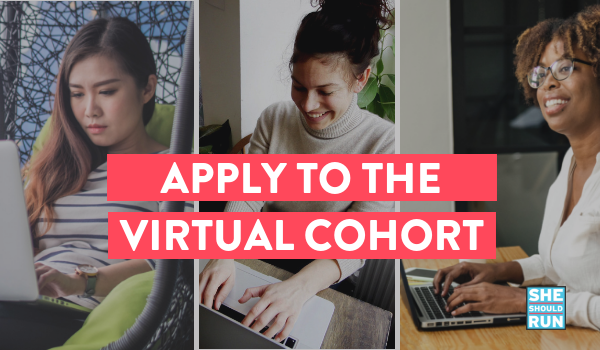 The She Should Run Incubator is our online, flagship program designed to help women from all backgrounds and across the political spectrum envision themselves in public leadership. The Incubator's unique approach focuses our members on why they want to run and the impact they'll make in elected office. Through our courses on cultivating leadership, building networks, and fostering communication skills, along with a supportive community, women are given the tools they need to begin carving their own unique path to public office.
In the Spring of 2018, She Should Run took the Incubator Community a step further by providing a structured, interactive online learning environment over a 10 week period with other Incubator members.
In the Virtual Cohort, a select group of women participate in activities and discussion focused on ways to cultivate leadership, build networks, and foster communication skills.
Our Virtual Cohorts are ideal for women who are still exploring a future run for public office and are ready to evolve their leadership, make solid connections with women across the country, and desire to take concrete and powerful steps toward laying down the groundwork for their future run for office.
Stay tuned for applications to participate in future Virtual Cohorts.
Virtual Cohort Summer 2018

This experience lit a fire under my butt. It's not just a few informational sessions. The time together (and in between) is used to move you forward in your run (wherever you are at in the process), for deep conversation between others who are considering a run for office, and creating/deepening relationships between people who each have amazing talents to bring to the table to help one another out! You do not have to do this alone! There is no reason to reinvent the wheel!

Summer 2018 Virtual Cohort Member