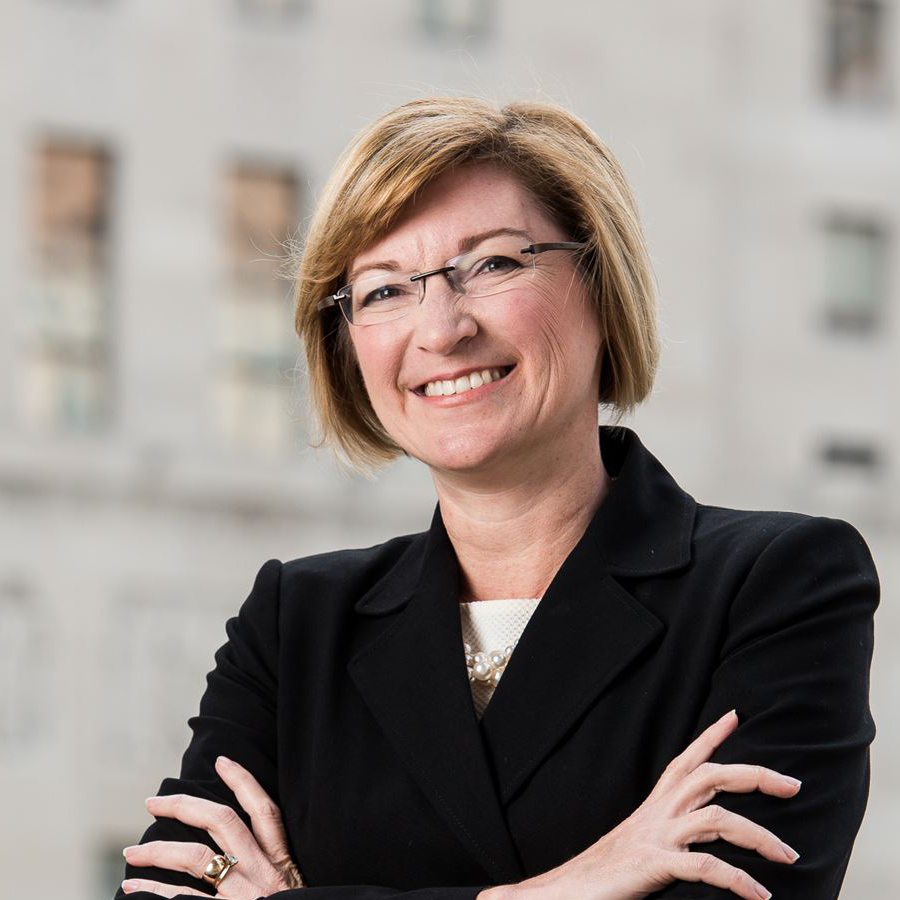 Jean Peters Baker
Jackson County Prosecutor / Chair of MO Democratic Party
Jean Peters Baker grew up in an Osage County, MO, farming community, received a bachelor's degree from Columbia College in Columbia, MO, a master's degree in public administration from the University of Missouri-Columbia and a law degree from the University of Missouri-Kansas City School of Law.
Baker served as an Assistant Prosecutor for Jackson County for 15 years and has served in nearly every unit of the office. Jean briefly left the prosecutor's office in 2010, when she was elected as a Missouri State Representative and served as the leader of the Freshman Democrats during her tenure in the General Assembly. She spearheaded the Kansas City Caucus and served as a co-chair of this group to promote economic development issues for the Kansas City area. Her service in the Missouri General Assembly provided her with a perspective of advocating for additional resources for the office and carrying out legislative priorities.
In 2011, Jean stepped down as state representative, when Jackson County Executive Mike Sanders appointed her to succeed Jim Kanatzar as the county's top law enforcement official -- Jackson County Prosecutor.
Baker was elected to the position in November 2012 and re-elected in November 2016. She is only the second woman elected to lead the Jackson County Prosecutor's Office.
Baker is widely credited with being unafraid of tackling difficult cases. In 2011, soon after being appointed to lead the office, Baker prosecuted the bishop of the Diocese of Kansas City-St. Joseph for failing to report potential abuse of children by a priest. The case attracted national attention after a Jackson County grand jury's indictment made the bishop the highest ranking cleric in the United States to face a criminal charge related to church's child sex abuse scandal. In another case that attracted national attention, Baker was named special prosecutor in October 2013 to investigate the filing of charges in a high-profile sexual assault involving high school football players in northwest Missouri.
Baker's focus as prosecutor has been to make Jackson County a safer and better place to live, work and raise a family. Baker has set as an office goal to more closely connect the prosecutor's office to the community and more smartly address and reduce crime, especially violent crime.
In 2011, one of Baker's first steps was to form neighborhood prosecution teams that focused on Kansas City and eastern Jackson County neighborhoods beset by crime. In 2012, Baker initiated a new violence reduction effort that now is known as the Kansas City No Violence Alliance (KC NoVA). The effort is led by a governing board that includes Baker, Kansas City Mayor Sly James, the Kansas City Police Department, ATF, FBI and the U.S. Attorney's Office. Using an evidence-based approach known as focused deterrence, KC NoVA in 2014 was able to help the community reduce homicides in Kansas City to the lowest level in four decades.
Baker has taken a national role in policies regarding the criminal justice system. She currently serves as the Chair of APA's National Board and was its co-chair for the Use of Force committee the past two years. She is also serving in leadership on the APA committee regarding issues of mass incarceration. Baker serves on the national committee of Prosecutors Against Gun Violence (PAGV) and the organized the PAGV inaugural Gun Summit in 2018 held in Kansas City. This past year, Baker also served as the Vice Chair of the Legislature committee for the Missouri Association of Prosecuting Attorneys.