Discover and Cultivate Your Leadership Potential in Austin, Texas!
The Austin Regional Cohort provides you with education and resources to demystify the myths around running for office, a judgment-free zone where women can explore a future run for office without intimidation, and a local community of supportive women.
Now accepting applications for our Austin Regional Cohort!
Applications close on May 22, 2019.
Apply now!
She Should Run is a nonpartisan nonprofit promoting leadership and encouraging women from all walks of life to run for office. We are driven by a vision of seeing 250,000 women run for office by 2030.
About the Regional Cohort
The Regional Cohort is a combined virtual and in-person program led by women leaders with significant, first-hand political experience. In the Regional Cohort, women from a locality come together to cultivate their leadership, build their networks, foster their communication skills, and find their own pathway to elected office. The structure of the Regional Cohort is one virtual pre-session, one full day in-person session, and one virtual post-session.
During the in-person session, Cohort members have an opportunity to network face-to-face with each other and hear from women leaders in their own community about their path to public office. After completing the Regional Cohort, each woman will walk away having discovered their "why" they want to run for office, a supportive community to encourage them on their journey, and increased confidence around taking that first step.
Regional Cohort Costs: A $50 registration fee is required upon acceptance into the Regional Cohort.
Who Should Apply
You are a woman who cares about her community, sees a problem, and wants to make a change. You are curious about the pursuit of political office and may be unsure about how to take that first step. You may not see yourself running in 5 or 15 years, but by the end of the Regional Cohort, you will know that it is a possibility within reach. You are excited about joining a community of women from all backgrounds and all across the political spectrum as you start your journey. Preference will be given to women who live in the area that the Regional Cohort is taking place in.
Our Curriculum
Cultivating Leadership
Articulate leadership vision and style
Understand motivations and overcome fears
Own your qualifications
Building Networks
Map out existing network for future run for office
Authentically create broader network
Champion your own cause
Learn comfortable approach to fundraising
Fostering Communication
Learn to share your story and how it connects to why you want to lead
Be able to pitch yourself to anyone
Public and digital branding
Develop listening skills
Finding Pathways
Reinforce everyone's path to leadership is unique
Understand importance of taking risks
Accept rejection
Face sexism head-on
Dates and Times for Austin Regional Cohort
Pre-session: Wednesday, May 29th at Noon EST/11 AM CST
In-person session: Saturday, June 8th 9 AM - 3:30 PM CST at The Riveter
Post-session: Wednesday, June 19th at Noon EST/11 AM CST
*Attendance at all sessions is required to receive a certificate of completion.
Applications close on May 22, 2019. If these dates and times don't work for you, sign up to receive details about upcoming Cohorts.
---
Additional Regional Cohorts are scheduled for the following locations:
Kansas City, Missouri (August 7th, 17th, & 28th)
Orange County, California (October 10th, 19th, & 31st)
Your Facilitator
China Dickerson
Originally from Charleston, South Carolina, China Dickerson has almost two decades of experience working in the areas of political campaigns, community development, and the federal government. China's career includes service with the Peace Corps in El Salvador and serving as the Deputy Director of Women Ready for Hillary. Most recently, China was Senior Advisor for Dionne Reeder, who ran for DC City Council, and At Large and Campaign Manager for Lauren Underwood who recently won her race to be the youngest African American woman elected to U.S. Congress. China is also proud to be Chair of the Young Democrats of America Women's Caucus and to serve on the executive boards of Women Under Forty PAC and Men4Choice.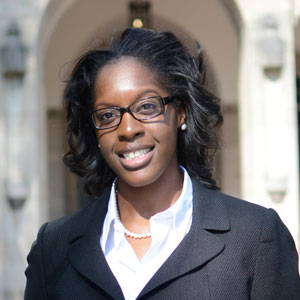 ---