Breakpoint
2021 Impact Report from She Should Run
---
It's been nearly two years since life as most of us knew it changed forever with the global emergence of COVID-19. If 2020 demonstrated the lifeline that women represent in their communities, 2021 showed us what happens when we are pushed to our breaking point.
The honest, uncomfortable truth is that 2021 was another hard year. Women across the U.S. and the world were pushed, yet again, to a place of unimaginable struggle. Even prior to the pandemic, women held fewer than one-third of all elected offices, effectively excluding their voices from the issues that matter to them most. COVID-19 has further thrust women's leadership, health, safety, and equality into a state of emergency.
Despite all the challenges of the past two years, we at She Should Run continue to push forward with big goals aimed at bringing more women to the decision-making tables. Tables where life-changing impact – policies that affect everyone – can be fully realized. We know our democracy only stands to benefit from the unique experiences and qualifications that women bring to leadership, and nothing will stop us from doing what it takes to help every woman realize her full potential.
A Turning Point for Change
Nearly all the effort to increase women's representation in public office focuses on the too few women already determined to run. She Should Run is the only nonpartisan 501c3 committed to building a movement of change by reaching and empowering women who have never considered running for office but should be.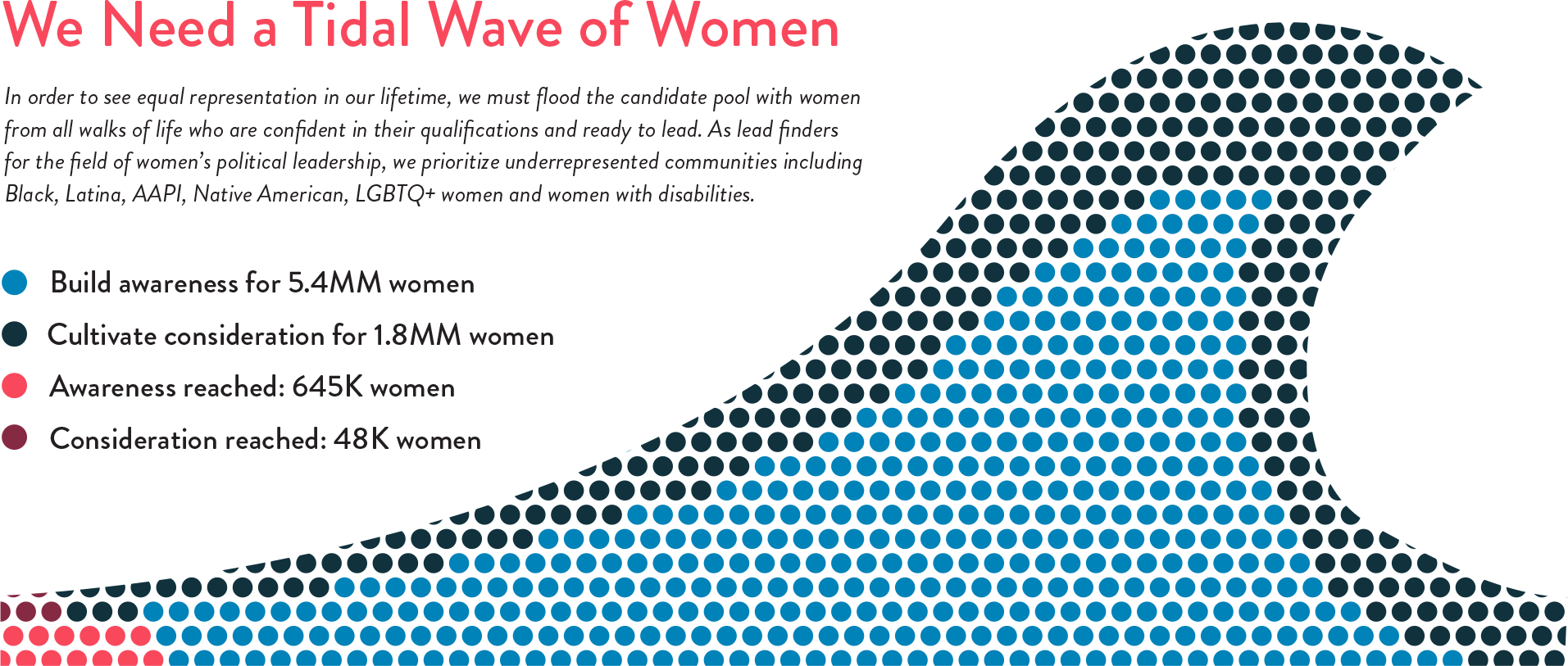 Awareness → Inform women of the power they hold in solving the challenges of the 21st century and experiencing a fully representative government.
Consideration → Cultivate a journey towards political leadership among our Community of engaged, diverse women ready to make a change in their community.
Our 2021 Impact
Let's break down the important numbers from 2021.
104,000
104,000 additional women were made aware of the power they hold in solving the challenges of the 21st century and experiencing a fully representative government, bringing our total to 690,000.
8,567
8,567 additional women cultivated their consideration of running for office among women from all walks of life, bringing our total to 44,013.
30%
30% of new Community members came to She Should Run from one of our free events normalizing political leadership for women.
2,254
2,254 women were reached by innovative public/private partnerships promoting She Should Run and equal representation.
3
3 new team members were welcomed in order to grow our capacity and expertise as the result of an extensive strategic visioning and planning effort to hone our strategy.
1
1 game-changing relationship with a Silicon Valley-based enterprise resulting in key technology upgrades and allowing us to scale our infrastructure and grow impact.
Our Financial Picture
Our 2021 financial picture remained positive, as we closed out the year with overall growth in giving and leaned into opportunities to diversify our budget in ways that ensure our sustainability and allow our donors to give with confidence. However, our current scale of financial growth does not align with the need. Philanthropic support for women's and girls' organizations remains a very small share of overall charitable giving, at 1.9% (Women & Girls Index 2021), and the amount going towards political participation is even lower.
(Financial charts)


We must prioritize the voices of women and girls, and we need to do it now.
5 Ways We'll Get There
We have big goals for 2022 and into the future to match the enormous challenges ahead of us.
1
Embark on a first-of-its-kind market research study to understand the drivers that encourage women from diverse backgrounds to consider elected office.
2
Invest in additional technological improvements to our online Community platform and website to ensure that women will have a simple and fun experience creating vital connections with other women and learning from our curriculum.
3
Build on our vast collection of virtual resources for women taking their first steps toward considering a run for office, including building connectivity and measuring progress among Community Members.
4
Pilot a collaborative program around lead finding for the field of women's political leadership.
5
Create ongoing touch-points that honestly and humbly share our progress and challenges.
---
She Should Run is a national, nonpartisan nonprofit dedicated to building a future of gender equality in elected office. We mobilize American women from all walks of life to fully acknowledge the systemic crisis of gender inequality and the unique role they play in addressing the challenges of the 21st century. Together, we cultivate this newfound awareness into political action.
---
Donate today to support our 2022 impact.